I am Marion - an occasional artist and maker of things on the beautiful Wirral in the Northwest of England.
I am fascinated by the forms, colours and processes found in nature, and the use of natural materials, as well as images of natural things, are frequently found in my spectrum of work. "Art for living well" means to me to be in consonance with the ebb and flow of nature. In order to live well, I believe a person has to also be able to listen with all senses to the world around, and my art often invites you to stop and feel, notice subtleties and feel a home in the world.
This interest finds expression in a range of techniques. I have painted and drawn all my life, and over the years I have added to this working with fibres, in the form of making felt, knitting and crocheting. I have also recently discovered the joys of eco-printing, a process by which natural materials, such as leaves and twigs, are gently persuaded to leave imprints on silk, wool and cotton cloth, thereby making their ephemeral beauty more permanent.
Recipe paintings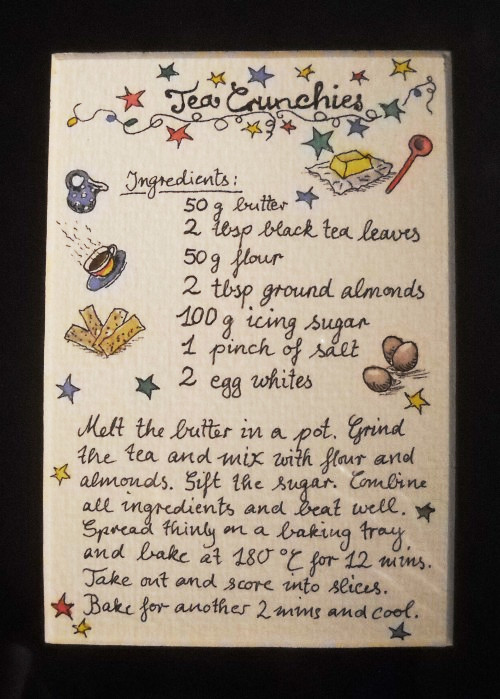 Do you have a favourite recipe? Maybe a cake that your granny used to make? Or a recipe that you once got from a good friend and that has been in your repertory every since? Do your kids have a favourite dish that you always cook when they come home? My recipe paintings are for those special recipes in your life. Allow me to turn such a recipe into a work of art for you to hang proudly on the kitchen wall. These painted recipes make great presents for someone who's leaving home to start off their own life of cooking, for someone moving into a new home (good food makes a home homely!), or for yourself! No more rummaging in drawers for your favourite recipe! No two recipe paintings are ever the same. Speak to me about your recipe that you'd like to have painted, and about any special requests for the drawings for it.

Felt Vessels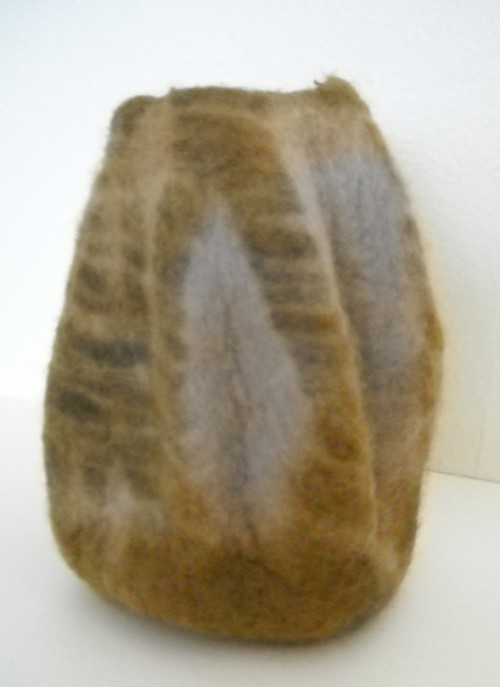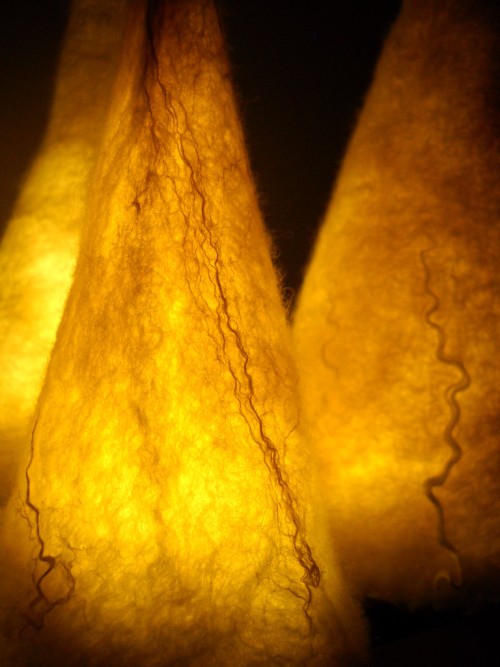 Felt is a wonderful material. It never stops to amaze me how that fluffy heap of wool fibres that is so delicate and light with some work and water manages to become one of the most durable materials. My felt vessels are made for multiple purposes. Thin-walled, white vessels are ideal Light Vessels with a tea light inside, that bring a light of happiness into dark evenings. (Although wool does not easily catch fire, I use LED tea lights.) Tree Vessels are first felted and then dyed in a bath of natural materials so that their shape resembles tree trunks. They are decorative and can also be used as vases for dry flowers and branches. Felt does not normally need to be washed much, but in case one does want to wash felt, it should be gently agitated in a weak solution of wool detergent, then rinsed in clear water with a couple of drops of vinegar in it. Then squeeze out excess water by rolling it up tightly in a towel, and reshape it back to its original form. Dry in a warm place, such as on top of a radiator.

Felt ball necklaces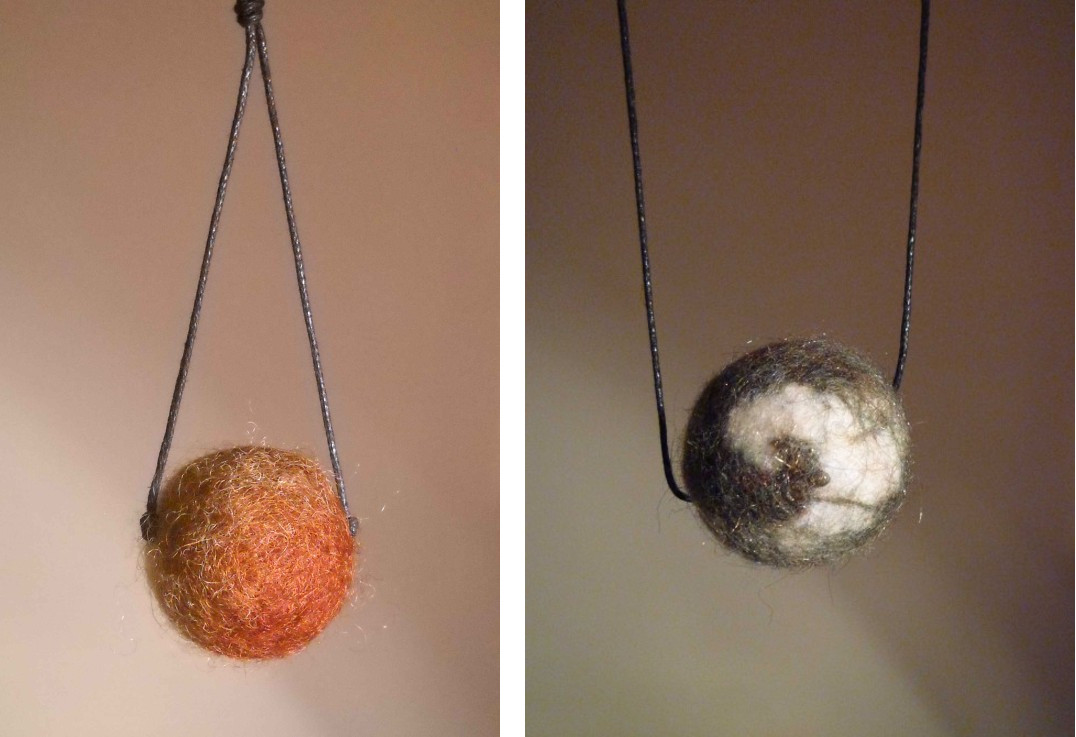 Felt has a wonderful tactile quality, which is why a necklace with a felt ball on it is a great thing to have. It invites playing with it and feeling its fibre surface, the firmness of the ball and the slight bounciness of it. They are made from coloured felt in a variety of mixed colours, single colours and undyed wool, and strung onto waxed cotton cord.

Eco-printing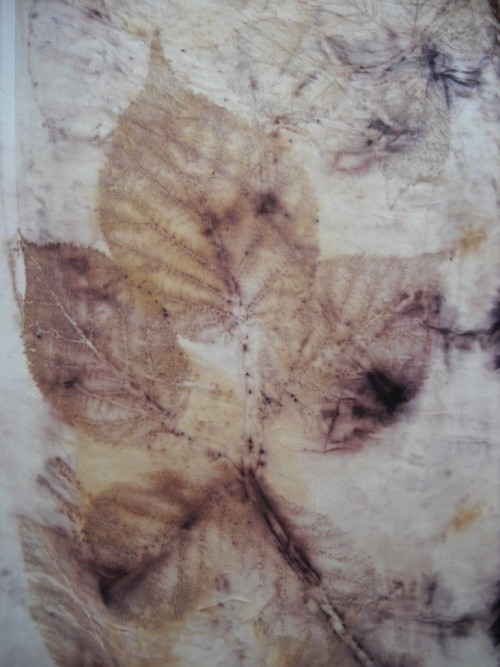 The magic of individual leaves imprinting their shapes on textile fabrics is a process that always yields surprises. No two prints are ever the same, and how a print turns out depends on too many factors to control. The process was first described by India Flint in her great book "Eco Colour". The fabric is prepared in various ways, in preparation for taking up the dye materials. Then all kinds of natural materials are collected from kitchen, trees, meadows and hedgerows, and the fabric bundled tightly with the plant materials. The bundles are simmered or steamed for several hours in a pot with more plant materials, as well as iron, copper or aluminium pieces as mordants, and then left to mature for a few days. After unwrapping the pieces are rinsed, dried and ironed. Every time a bundle is unwrapped it is a new surprise! As there is no use of petrochemical products in the process, it can be expected that the colours will change with time. This is part of the beauty of a natural product.

Other art work
Occasionally I produce other things that do not fall into these categories. They can sometimes be found on this website or in my etsy shop, taoworks.



For any enquiries please email me on info[at]taocrafts.co.uk