These are very unusual times. How quickly the safety and comfort of knowing what life will look like tomorrow (pretty much the same as today and yesterday) have disappeared.
As so many people I know seem to be doing, I stay at home most of the time. Perhaps I go out in the early mornings, when nobody else is around yet. But the rest of the day is taken up with doing things at home. For those, like me, who are in the very lucky position not to have the acute fear of losing our jobs, our homes or even worse, it's not so bad. It's worrying and inconvenient, but not paralysing.
And I'm luckier still by living in a place where nature is not too far away. There is the beach. There are trees. I can see the sky (now no longer intersected by dozens of contrails). It makes a huge difference: being able to take a deep breath and smell the damp earth, the plants, and the salty breeze.
It seems, art and craft are having their hey-day at the moment. Try and buy art supplies online, and you'll find "out of stock" a lot. "Expected back in three months' time." So, time to fish out some old charity shop finds, like a huge print (on some sort of plastic foil over a stretcher frame) of a magenta coloured flower in close-up. Just the thing to experiment with, since that's what I bought it for. Watching far too many Youtube videos, I came across Gerda Lipski, a German artist who creates a lot of texture in acrylics and gets amazing effects.
I used thin glazes of acrylic colour, alcohol, cling film, more alcohol, water drops and sprays, more cling film,… and eventually got a nice complex texture. Turning the canvas round and round to see if any of the shapes created might remind me of something, that I then could go and make more obvious, all I saw was an off-centre blob. And all that blob reminded me of was a jellyfish.
I just couldn't see anything else in it, and so I gave up looking and went with jellyfish. With some more glazes (this time more controlled and with smaller brushes), sharper lines, a bit more alcohol and by adding light and shadow, I eventually got a jellyfish out of my random textures with blob.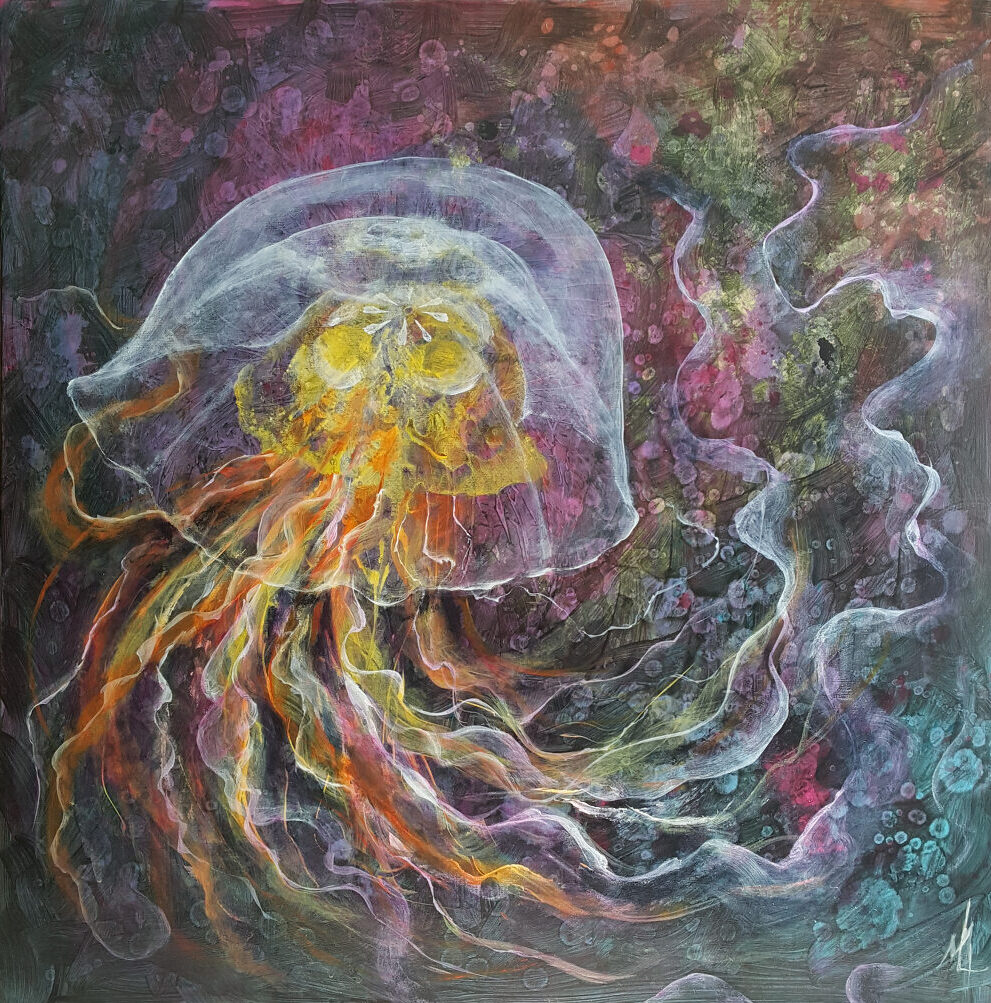 I think he (he? do jellyfish even have genders? I have to read up on that…) came out quite okay. Maybe quite a good antidote for the slight mopey-ness that has a tendency to creep in these days? He already has a new home: someone who has a large, so far empty wall will hopefully enjoy him!